---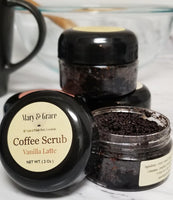 AMAZING! Has my skin poppin'
When I initially placed my order I was most excited about the coffee scrub. I have used sugar scrubs in the past and always felt as if they were too abrasive for my skin so I wanted to see if the coffee scrub would be less abrasive on my skin. This Vanilla Latte coffee scrub DID NOT DISAPPOINT! Since using this my skin has evened out, my pores are shrinking, and it leaves my skin moisturized after use. The smell is also amazing. In short this product has my skin poppin'.
Our coffee blend with a smooth, and sweet vanilla fragrance that you're sure to love. 
Ingredients: Fresh Ground Coffee, Dark Brown Sugar, Pure Cane Sugar, Pure Vanilla Extract, Ground Cinnamon, Unrefined Coconut Oil, Vitamin E Oil
Directions: Wet the skin with warm water, then massage this scrub into the skin using gentle circular motions. Rinse well. 

** I recommend using no more than 2-3 times a week to avoid over-exfoliation. 
_______________________________________________________________________________________
These statements and products have not been evaluated by the FDA. These statements do not intend to diagnose, treat, cure, prevent, or eliminate any disease or condition. Mary & Grace All-Natural Whole Body Essentials products are for cosmetic purposes ONLY. Please do not ingest them. Please consult a physician before using any of our products. Read the ingredients carefully. If you are allergic to any of the ingredients, please do not purchase or use.
Use a small 1" by 1" area to test on your hand; let the product sit on the skin for at least 24 hours to test for any adverse reactions. If you experience a reaction, please discontinue use of this product immediately and contact your physician right away.