---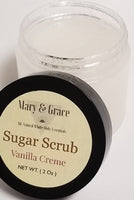 Sugar Scrub Is Amazing
I am very picky with the products I use because I have senstive skin, but I'm glad I tried out Mary & Grace product. I used the mini spatula to place some on my skin and the scrub made my skin super smooth. It also moisturized my skin as well, which I've never had that before in a scrub. I followed it up with the Mango Butter and my skin felt like silk. I recommend.
Let this sweet and sultry vanilla treat exfoliate your cares away. Vanilla is known to ease nervous energy, calm anxiety and provide a romantic and relaxing environment. 
Ingredients:  Pure Cane Sugar, Unrefined Coconut Oil, Sweet Almond Oil, Vitamin E Oil, Pure Essential Oils

Store in a cool dry place. Exposing your scrub to moisture will jeopardize its quality.
Directions: Wet the skin with warm water, then massage this scrub into the skin using gentle circular motions, paying special attention to problem areas. Rinse well. 
** I recommend using no more than 2-3 times a week to avoid over-exfoliation. 
_______________________________________________________________________________________
These statements and products have not been evaluated by the FDA. These statements do not intend to diagnose, treat, cure, prevent, or eliminate any disease or condition. Mary & Grace All-Natural Whole Body Essentials products are for cosmetic purposes ONLY. Please do not ingest them. Please consult a physician before using any of our products. Read the ingredients carefully. If you are allergic to any of the ingredients, please do not purchase or use.
Use a small 1" by 1" area to test on your hand; let the product sit on the skin for at least 24 hours to test for any adverse reactions. If you experience a reaction, please discontinue use of this product immediately and contact your physician right away.