---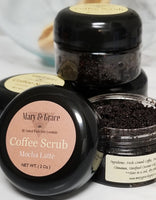 Treat your skin right!
This coffee scrub is a nice treat in my self-care routine. It smells soooo good! It can get a little messy, but it's well worth it. Use it after your skin is wet, turn the shower water off, then scrub your whole body! Rinse everything well! After you use this, you want to use the moisturizer or body butter to send yourself to the most relaxed and smooth state of mind you've ever experienced lol... You won't regret it!
What's better than a fresh cup of coffee? Coffee and chocolate, of course! Enjoy this decadent treat, that'll leave you craving the real thing!
Ingredients: Fresh Ground Coffee, Dark Brown Sugar, Pure Cane Sugar, Pure Vanilla Extract, Unrefined Coconut Oil, Vitamin E Oil, Pure Essential Oils
Directions: Wet the skin with warm water, then massage this scrub into the skin using gentle circular motions. Rinse well. 
** I recommend using no more than 2-3 times a week to avoid over-exfoliation. 
_______________________________________________________________________________________
These statements and products have not been evaluated by the FDA. These statements do not intend to diagnose, treat, cure, prevent, or eliminate any disease or condition. Mary & Grace All-Natural Whole Body Essentials products are for cosmetic purposes ONLY. Please do not ingest them. Please consult a physician before using any of our products. Read the ingredients carefully. If you are allergic to any of the ingredients, please do not purchase or use.
Use a small 1" by 1" area to test on your hand; let the product sit on the skin for at least 24 hours to test for any adverse reactions. If you experience a reaction, please discontinue use of this product immediately and contact your physician right away.