---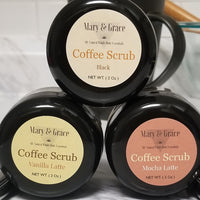 Can't decide? You don't have to!! This sample set includes all 3 of our signature coffee scrubs! 
Ingredients: Fresh Ground Coffee, Dark Brown Sugar, Vanilla Extract, Vitamin E Oil, Pure Essential Oils

Store in a cool dry place. Exposing your scrub to moisture will jeopardize its quality.
Directions: Wet your skin with warm water, then massage this scrub into your skin using gentle circular motions. Rinse well
_______________________________________________________________________________________
These statements and products have not been evaluated by the FDA. These statements do not intend to diagnose, treat, cure, prevent, or eliminate any disease or condition. Mary & Grace All-Natural Whole Body Essentials products are for cosmetic purposes ONLY. Please do not ingest them. Please consult a physician before using any of our products. Read the ingredients carefully. If you are allergic to any of the ingredients, please do not purchase or use.
Use a small 1" by 1" area to test on your hand; let the product sit on the skin for at least 24 hours to test for any adverse reactions. If you experience a reaction, please discontinue use of this product immediately and contact your physician right away.