---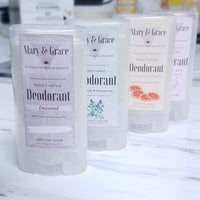 A natural that works!
This deodorant keeps working, even in that FL heat. I put it through the test, gardening plus a workout and it was still doing the job! And it doesn't make my skin breakout. Some of the other natural deodorants I've tried either didn't work or gave me a rash. I'm so happy with this product!
Unscented
I love natural deodorants and I've tried a few brands during my journey. Please read the information provided below. As stated, this is not an antiperspirant so I still sweat, but I am not smelly using this product. It's my new favorite natural deodorant. The sample size lasts me a few months. A little goes a long way.
Patchouli
The fragrance is awesome of course. I ordered the sample size mainly because I have several other brands of aluminum free deodorants that I needed to use but after using this one I might just toss the others 😉 thanks girl.
Not sure if our natural deodorant a right fit for you? 
Look, I get it. There is no "one size fits all" when it comes to a single hygiene product. How can you test if this is right for you? I got you covered. If you're trying this deodorant for the first time, but aren't sure if you're ready to invest in a full-sized bar, try one of our mini-bars first!! They're sized perfectly to get you through the initial detox period (if you're completely new to natural deodorant) and give you a preview of the full experience, at a fraction of the price!
 Ingredients: Unrefined Shea Butter, Unrefined Organic Coconut Oil, Organic Beeswax, Arrowroot Powder, Zinc Oxide, Vitamin E Oil, and Pure Essential Oils.
Directions: Apply underarms as needed to eliminate odors caused by natural perspiration. 
**New to natural deodorant? Please read**
If you are switching from a commercial brand of deodorant/antiperspirant, you may notice your body going through a "detox period" when you initially start to use your new, all-natural deodorant. THIS IS COMPLETELY NORMAL. I recommend keeping your deodorant stick with you, so that you may reapply as needed. The amount of times you need to reapply should lessen with each passing day, until you finally even out. Detox periods typically last no more than a week or so. 

Why does this happen?
Most commercial brands contain aluminum (to clog the pores and slow down the sweating process), and parabens (an added preservative that is absorbed into the skin). Upon making the switch to all-natural, your body will respond by ridding itself of the toxins built up in that area. Keep in mind, this product is not an antiperspirant. Our pores were made to breathe. Our deodorant was created to help destroy odor causing bacteria, while protecting your skin as it goes through it's natural processes day to day.
_______________________________________________________________________________________
These statements and products have not been evaluated by the FDA. These statements do not intend to diagnose, treat, cure, prevent, or eliminate any disease or condition. Mary & Grace All-Natural Whole Body Essentials products are for cosmetic purposes ONLY. Please do not ingest them. Please consult a physician before using any of our products. Read the ingredients carefully. If you are allergic to any of the ingredients, please do not purchase or use.
Use a small 1" by 1" area to test on your hand; let the product sit on the skin for at least 24 hours to test for any adverse reactions. If you experience a reaction, please discontinue use of this product immediately and contact your physician right away.