---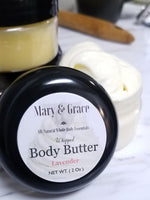 Sparkling Skin
Great product. I love the way it makes my skin shine. The smell is amazing. I recommend self-care to all men. The best part is it's all-natural, so it is great for your skin.
All Natural!! It's that part that grabbed my attention.
Absolutely love it!! You can feel the body butter hydrating your skin the moment it touches you.
A very sweet, dry herbal & floral scent.
Ingredients: 100% Pure Vegan Shea Butter, Sweet Almond Oil, Unrefined Coconut Oil, Arrowroot Powder, Pure Essential Oils
Store in a cool dry place. Butter will begin to melt when temperature exceeds 77 degrees Fahrenheit.  
Directions: Apply as needed to moisturize and nourish skin, paying close attention to problem areas. For Hair: Apply to damp, clean hair to help seal in moisture and strengthen strands. For Beards: After cleaning, finger comb through to soften and promote healthy growth. 
_______________________________________________________________________________________
These statements and products have not been evaluated by the FDA. These statements do not intend to diagnose, treat, cure, prevent, or eliminate any disease or condition. Mary & Grace All-Natural Whole Body Essentials products are for cosmetic purposes ONLY. Please do not ingest them. Please consult a physician before using any of our products. Read the ingredients carefully. If you are allergic to any of the ingredients, please do not purchase or use.
Use a small 1" by 1" area to test on your hand; let the product sit on the skin for at least 24 hours to test for any adverse reactions. If you experience a reaction, please discontinue use of this product immediately and contact your physician right away.